Children's Parties - In addition to the basic performance, our dancer(s) will teach the children a simple hula. The children will learn their Hawaiian name equivalents and be given a name tag with the meaning. Each child will receive a lei and a flower for their hair, in addition to a certificate of participation.
Outdoor Events - Outdoor events give us more flexability and we are able to play with hula hoops, Hawaiian bowling and limbo.
Special Events - We offer special Sweet 16, Bridal Shower and Anniversary parties. Getting married or celebrating an anniversary - have Karen perform the Hawaiian Wedding Song.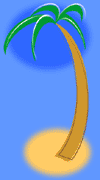 Miscellaneous - Our packages can be customized to meet your event. There are different rates for our entertainment, which is based on the number of dancers performing, the amount of guests and the time and location of the event.

No matter what you are celebrating, you and your guests are sure to enjoy this Polynesian experience.
Please Note: Hulahonney Entertainment is commited to providing an educational and family-friendly performance that your guests are sure to enjoy. Our performances are ideal for children's parties, family gatherings and community events. In this tradition, we will not book performances at bar events, bachelor parties or similar occassions.